Maya the Bee (みつばちマーヤの冒険 Mitsubachi Māya no Bōken, lit. The Adventures of Maya the Honey Bee) is a Japanese anime series co-produced by Nippon Animation, the German Zweites Deutsches Fernsehen (ZDF) and Austrian Österreichischer Rundfunk (ORF), based on a children's novel published in 1912 by German writer Waldemar Bonsels.
The series consists of 52 episodes, and was first broadcast in Japan from April 1, 1975 to April 20, 1976 on TV Asahi. A sequel series of 52 episodes titled The New Adventures of Maya the Honey Bee (新みつばちマーヤの冒険 Shin Mitsubachi Māya no Bōken) was broadcast from October 12, 1982 to September 27, 1983 (though it had been broadcast earlier in Germany). The music of the series was composed by the Czech Karel Svoboda.
Synopsis
Maya is a very curious little bee that has, since childhood, had great interest in getting out of the honeycomb and knowing the outside world. Not accepting that her companions only dedicate themselves to making honey, she embarks on unforgettable adventures with her inseparable friend Willy. Each chapter is full of lessons about friendship, justice and issues about nature and the various animals that live there. Also noteworthy in the series are the grasshopper Flip with his wise advice, the spider Techra with his detuned violin, Miss Cassandra with her teachings and many other unforgettable characters.
Dubbing History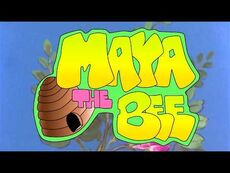 The original series, The Adventures of Maya the Honey Bee, was originally dubbed in the 1980 by Sonovision for the South African Broadcasting Corporation.[1][2] This dub was more closely based on the German version, even titling the series as Maja the Bee in some prints, and features an unknown cast with upper-class English South African accents for the characters. This version of the series was also shown in Australia, and is viewable on the official Maya the Bee YouTube channel, and has been released for Digital Download.
Yet another dub was produced by Saban Entertainment with a Canadian voice cast from Montreal, and aired from January 1, 1990 to December 31, 1992 on Nickelodeon in the United States, and from 1990 to 1993 on Family Channel and 1992 to 1998 on YTV in Canada. As typical for a Saban dub, a new music score and theme song for the anime was composed. 65 episodes from both the original series and the sequel series were dubbed.[3]
Cast
Episodic Characters
Character
Seiyū
Dub Actor
Episode
Ant Captain

Kazuya Tatekabe

¿?
4
Spider

Keaton Yamada

¿?
Hector Hidesnuggler

Kōsei Tomita

¿?
8
Crab Spider

Kazuya Tatekabe

¿?
Ant Soldiers

Yūji Mikimoto




Shigezō Sasaoka




Maki Nozawa




Tako Hiromi

¿?
Pillbugs

Sachiko Chijimatsu




Kazuko Sugiyama




Keaton Yamada

¿?
22
Ike Nose-Needle
Kōji Yada
Arthur Holden
27
Alf the Elf

Yoshiko Matsuo

Rob Roy
Cindy
Ayumi Tokita
¿?
Tim
Eishō Itō
Bronwen Mantel
Boys
Masaaki Waguri
Manabu Tezuka
Liz MacRae
¿?
Uncle Stanislas

Yūji Fujishiro

¿?
56
Mr. Waterbeetle

Toshiro Ishii

Rick Jones
Mr. Ladybug

Yasushi Ōhama

¿?
Mrs. Ladybug

Seiko Nakano

¿?
Additional Voices
Transmission
Date(s)
Channel
Dub
Country
¿?
SABC
Sonovision
South Africa
1984-91
Network 10
Australia
1983-84
CBC
Canada
1988;

1992-98

YTV
Saban
1990-93
Family Channel
1990-92
Nickelodeon
United States
Video Releases
Distributor
Year
Format
Contents
Region
Country
Video Treasures
1989-1992
9 Episodes
NTSC
United States
3 Volumes
Videos
See Also
References
External Links