Gamera (大怪獣ガメラ Daikaijū Gamera, lit. Giant Monster Gamera) is a 1965 tokusatsu kaiju film produced by Daiei Motion Picture Company, and the first entry in the Gamera series. It was released to Japanese theaters on November 27, 1965.
Dubbing History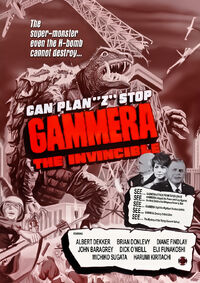 Gamera was the only film in the original Gamera series to be released to American theaters. It was originally presented in America by World Entertainment Corp. and Harris Associates, Inc. who released it under the title Gammera, The Invincible, with two "m"s. All subsequent entries in the series spelled the main character's English name "Gamera," and were released directly to television by American International Productions Television (A.I.P.-TV). Gammera, The Invincible's American premiere was in New Orleans on December 15, 1966.
Gammera, The Invincible was heavily re-edited from its original Japanese version. Shots and scenes were moved around, while some were deleted completely. The subplot involving Aoyagi's one-sided relationship with Kyoko was removed and Toshio's implied mental disorder and role in the plot was de-emphasized. Gamera's implied origins and connections to the Atlantean continent were also excised, and authorities are made initially unsure of Gamera's existence. New footage featuring American actors, including Albert Dekker and Brian Donlevy, was spliced in to create a more international feel and to replace scenes shot in Japan featuring American characters, in a style similar to the U.S. release of Godzilla, King of the Monsters!. Unused effects footage obtained from Daiei was also reinserted, as establishing shots and extensions to Gamera's attack on the geothermal power plant and Toshio's encounter with Gamera at the oil refinery.
In 1985, Sandy Frank Entertainment commissioned a new dub of the film, which was first released on video on July 14, 1987 on Celebrity Home Entertainment's "Feature Creatures" label. A planned computer-colorized version of the film was scrapped when results of a Celebrity poll showed fans would prefer the original black and white release. The Sandy Frank version, titled simply Gamera, is simply the Japanese version of the film dubbed into English, with a few differences. Like the other Gamera films distributed by Sandy Frank, it features a new credits sequence with footage of ocean waves as a backdrop. Gamera's raid on the geothermal power plant is also edited differently, and various characters names are Americanized. It is only available via VHS and LaserDiscs released by Celebrity Home Entertainment in the 1980's. Gamera, along with the other four Sandy Frank Gamera movies, was mocked twice on Mystery Science Theater 3000, first on KTMA TV 23, a UHF station in the St. Paul-Minneapolis area, and later in the show's third season.
The original Gammera version would later be shown on syndicated PBS program Nightmare Theatre, which is showing on selected stations in the southeastern United States, as part of its second season; the episode premiered on the program's home station, WSRE Pensacola, on November 23, 2019, and was made available to the other participating stations beginning the following May, along with the rest of the season.
Cast
Gammera, The Invincible
| Character | Original Actor | Dub Actor |
| --- | --- | --- |
| Dr. Hidaka | Eiji Funakoshi | Bernard Grant |
| Aoyagi | Junichiro Yamashita | Larry Robinson |
| Kyoko Yamamoto | Harumi Kiritachi | Paulette Rubinstein |
| Toshio Sakurai | Yoshiro Uchida | Corinne Orr |
| Nobuyo Sakurai | Michiko Sugata | Lucy Martin |
| Mr. Ueda | Ichigen Ohashi | Peter Fernandez |
| Chidori Maru Navigator | Daihachi Kita | Kenneth Harvey |
| News Announcer | Yuji Moriya | Jack Curtis |
Additional Voices
Sandy Frank Dub
Character
Original Actor
Dub Actor
Dr. Hidaka
Eiji Funakoshi
Sean Barrett
Alex
(Aoyagi)
Junichiro Yamashita
Garrick Hagon
Catherine
(Kyoko Yamamoto)
Harumi Kiritachi
Liza Ross
Kenny
(Toshio Sakurai)
Yoshiro Uchida
¿?
Nora
(Nobuyo Sakurai)
Michiko Sugata
¿?
Professor Murase
Jun Hamamura
Constantine Gregory
SDF Commander
Jutaro Hojo

Jesse Vogel

Chidori Maru Captain
Jun Osanai

Bob Sherman

Chidori Maru Navigator
Daihachi Kita
Jay Benedict
Soviet Representative
Munehiko Takada
Bob Sessions
News Announcer
Yuji Moriya
Akiro
Tsutomu Nakata

Jesse Vogel

Old Farmer's Wife
Fumiko Murata
Liza Ross
Fish Seller A
Kyosuke Shiho

Jesse Vogel

Fish Seller B
Shunji Sayama
Jay Benedict
Fish Seller C
Ken Nakahara

Bob Sherman

Chidori Maru Radioman
Kazuo Mori
Jay Benedict
Additional Voices
Notes
Transmission
Date(s)
Channel
Dub
Country
1966-Present
Syndication
Gammera
United States
1987-1994
Sandy Frank
2019
PBS
Gammera
Video Releases
Distributor
Year
Format
Dub
Region
Country
Celebrity Home Entertainment
1987
Sandy Frank
NTSC
United States
Video Yesteryear
1996
Gammera
Neptune Video
1999
Alpha Video Distributors
2004
1
NTSC
Mill Creek Entertainment
2005
Alpha Video Distributors
2007
Mill Creek Entertainment
In addition, the Mystery Science Theater 3000 riffed version of the film was previously available on the Mystery Science Theater 3000 - XXI DVD Set, released by Shout! Factory in 2011. It went out of print in 2015.
See Also
External Links